Dear Community Member,

Whether the weather be fine, or whether the weather be not
Whether the weather be cold, or whether the weather be hot,
We'll weather the weather, whatever the weather,
Whether we like it or not.
Watching the seasonal shifts occurring, framed by the same window each day, perhaps we can try to take comfort in the idea of natural cycles. This newsletter is inspired by the changing seasons and an unashamedly - Melbournian focus on the weather.
Virtual Gallery
Art helps us make sense of the world
Artist tips for being on your own
Erin Coates and Anna Nazzari at the 2020 Adelaide Biennial
Interview with Jacqui Stockdale
Isolate with Linden > Kids activities
Cook like an Artist
Get Crafty
In the neighbourhood
Things that made us happy


---
VIRTUAL GALLERY
---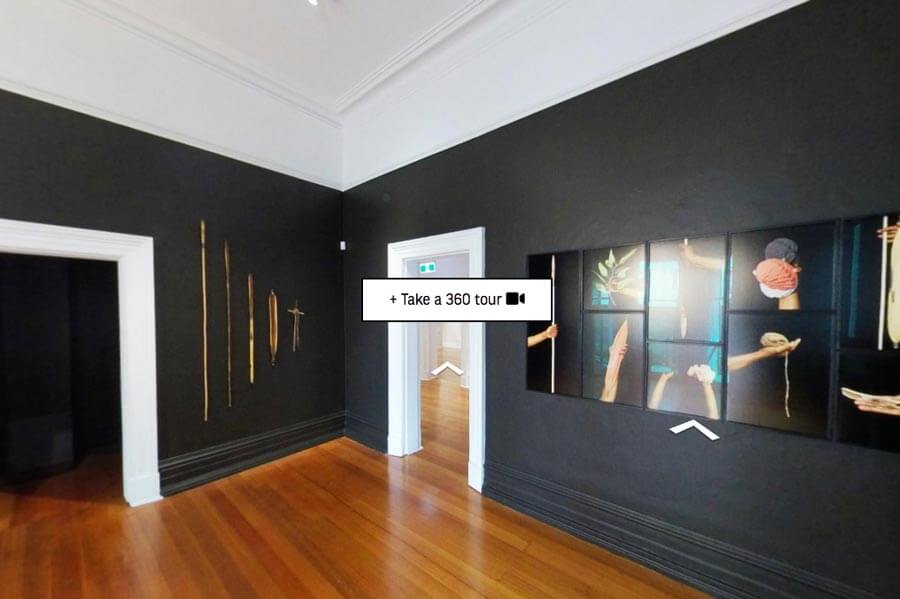 First things first - we have some great news.
With our friends from Ignition Immersive, we're building a very special virtual gallery to bring you our exhibitions in three dimensions. This means you can virtually visit our exhibitions whenever and however you like. Whether you like to view artworks from up close or from all different angles, in three minutes or in thirty, with an audio guide or as a lone ranger, it will be an interactive experience controlled by you.
But, before it gets here… we're very excited to launch a teaser virtual gallery tour, featuring 360 degree photographs our current exhibitions, Karla Dickens > My Mother's Keeper, Robert Fielding > Routes/ Roots and Jacqui Stockdale > The Long Shot.
 
This is just a taste of things to come and you'll be the first to know about Linden in 3D!
We would like to extend a huge thank you to our friends at Ignition Immersive who have captured Linden's heritage listed building so beautifully to allow the visitors we are missing so dearly to explore our spaces from the warmth of their own homes.
---
ART HELPS US MAKE SENSE OF THE WORLD
---
According to the Oxford Dictionary, to "weather something" means "to come safely through a difficult period or experience". With this in mind, we have found three artists who have braved the elements and even harnessed the power of the weather to create beautiful and meditative artworks.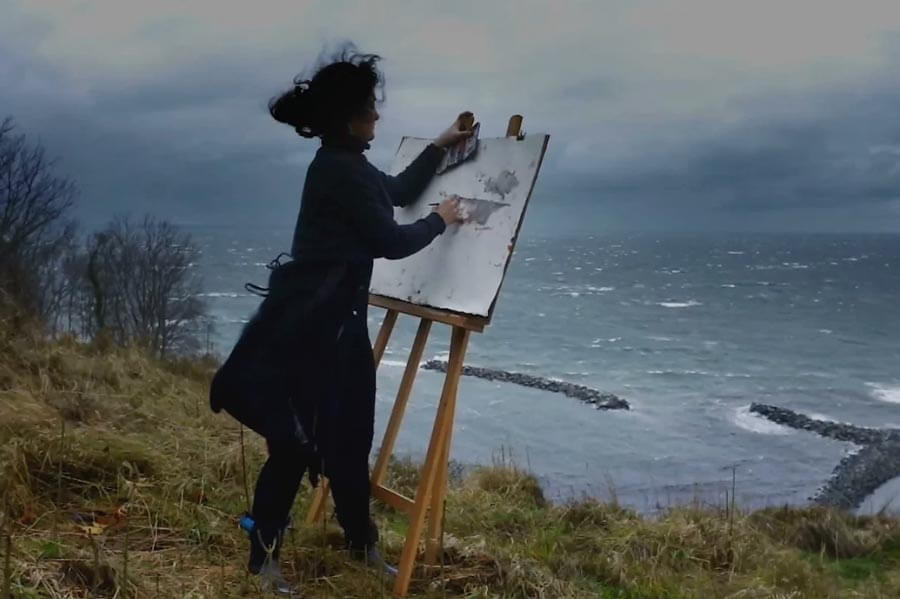 In 2015-16, UK-based Australian artist Gabriella Hirst attempted to paint a storm within a storm. Hirst has described the process as follows, "Over a period of six months I attempted again and again to film myself painting a representational seascape whilst in the midst of terrible weather, trying to eliminate the buffer zone between the destructive force and the creative act. The attempts took place on the Island of Rügen, in northern Germany, where romantic painter Caspar David Friedrich went to paint in the early 1800s."
This work, titled Force Majeure, demonstrates perseverance, humility and determination.
ANISH KAPOOR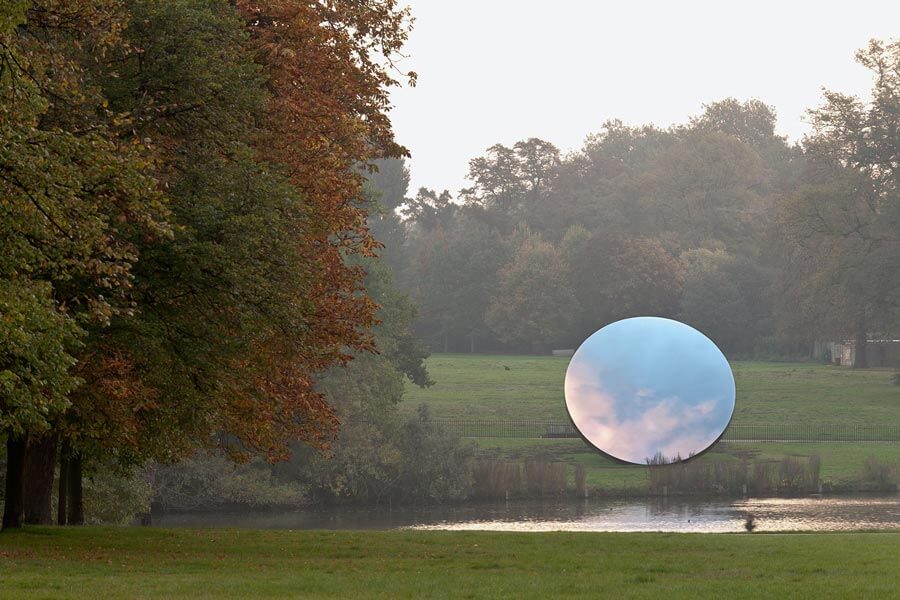 Anish Kapoor's Sky Mirror series, which he began in 2001, consists of large mirrors facing upwards and placed outdoors to reflect the changing of seasons, the movement of clouds, and the transitions from day to night. These works are perpetually changing, and at times dissolve into their surroundings completely. The mirrors are concave, which has the effect of amplifying the scale of meteorological events. Our experience of the sky is doubled and inverted. The works offer a reminder that we are at the mercy of what happens above us and prompt us to stand in awe.


CAMERON ROBBINS


Australian artist Cameron Robbins invents and constructs mechanical systems that make tangible the underlying rhythms of natural phenomena, such as ocean currents or wind. In 2015, Robbins' work Wind Section Instrumental was installed at MONA in Hobart. This work perpetually maps the passing weather systems by transforming these forces into large-scale ink drawings on paper. The resulting drawings reflect the speed and direction of the wind, containing the weather's energy in remarkably expressive and eloquent patterns.
---
ARTIST TIPS FOR BEING ON YOUR OWN
---

Perth-based artists Erin Coates and Anna Nazzari exhibited their joint exhibition Dark Water at Linden in 2019. Erin and Anna have shared their thoughts on isolation and given us an update on what they are currently working on.
ERIN COATES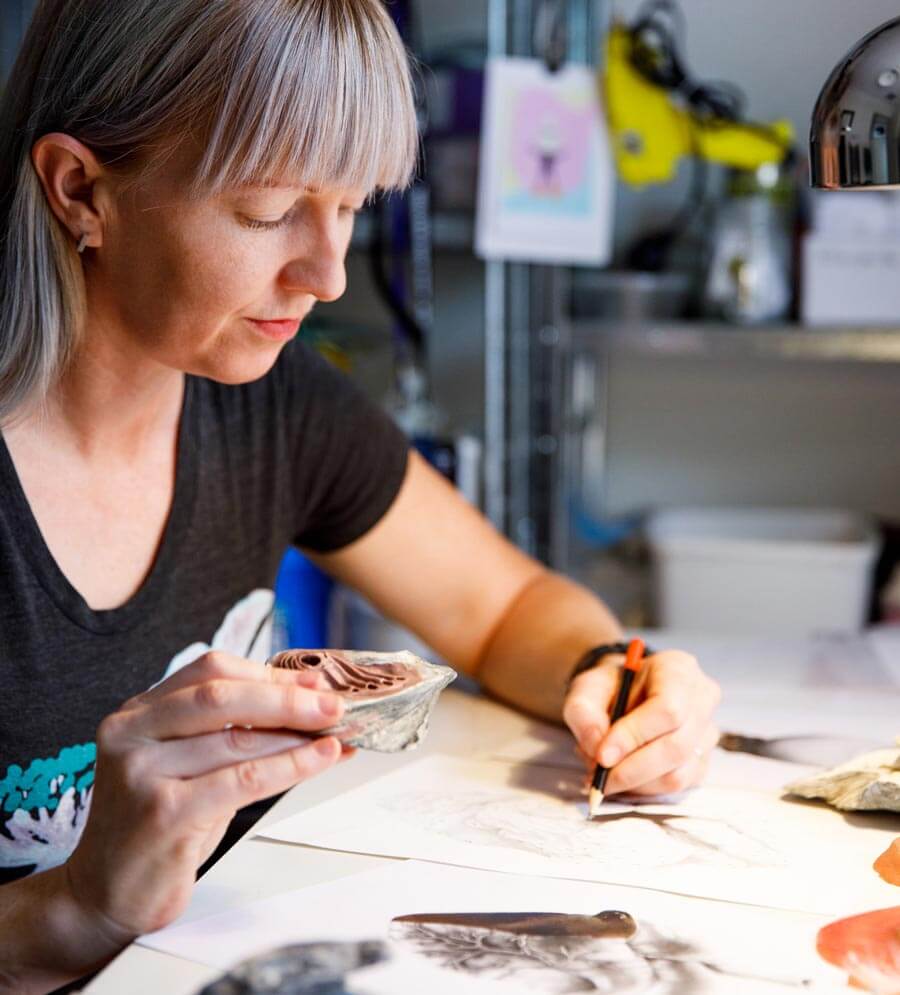 "My practice is quite strongly connected to ideas I've formed around endurance and physicality – at first it was rock climbing, and now it's free-diving. I need these activities to drive the conceptual aspects of my work and also maintain a sense of physical and creative endurance. Reading Haruki Murakami's book What I Talk About When I Talk About Running was like a road to Damascus moment for me. So obviously, being cooped up during COVID-19 is pretty hard! Luckily, in WA, I can still get out for a nearby run and some free diving training in the Derbarl Yerrigan (Swan River). This is allowing me to have long studio days. I'm working on several new pieces. Some require a lot of concentration and I find I can only have instrumental background music on. Film soundtracks are great for this. I like quite dark stuff, such as the scores to Under the Skin, Annihilation, Sicario, Bladerunner 2049. For other studio work I can listen to podcasts and audiobooks. My current favourites are: 99% Invisible (fascinating design stories), The Allusionist (all things linguistics, very entertaining), ABC's Bookshelf and Conversations, and I love the podcast The Scissor Sisters – women filmmakers discussing genre, action and horror films. My life goal at the moment is to be a guest on there." 
 

ANNA NAZZARI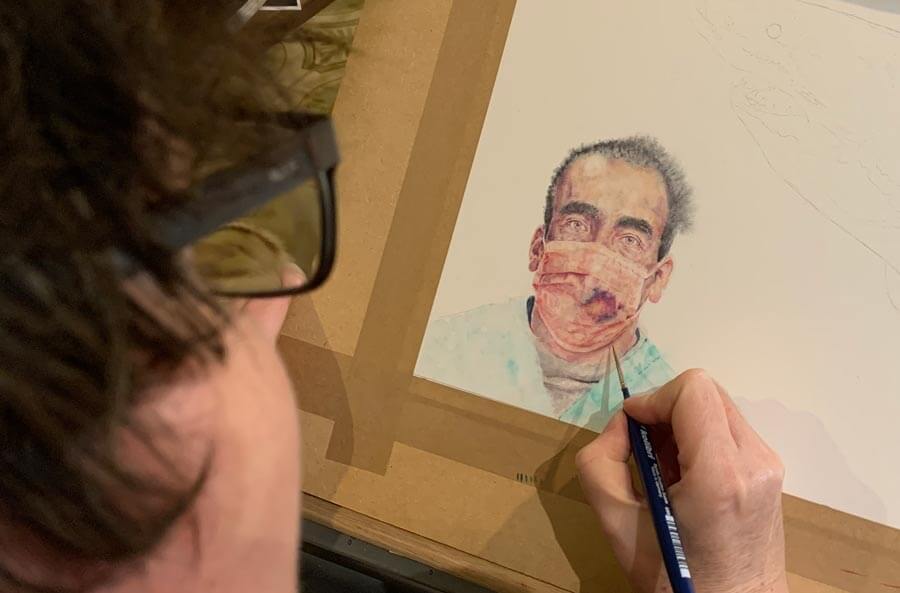 "As a self-diagnosed introvert, I thought working from home would be a breeze - I would be able to avoid peak hour traffic and have more time for making art. The reality has been a lot harder, work often bleeds into my art practice time, so establishing boundaries has been the most difficult thing for me. I have found time to focus on my practice and … it is the first time in 18 years that I can just enjoy playing/experimenting without a deadline looming. 
Currently, I am interested in exploring a sort of transhuman transmigration, in which everyone may have to migrate in some way, shape or form after the impact of a major disaster or climate change. In this space, I don't just want to focus on human migrating bodies after a disaster I also want to include human / animal hybrids. I guess I am most interested in questioning what a transhumanist transmigration might look like i.e. is it moving to a liminal place in which humanity has evolved beyond its physical and mental limitations or is it a familiar place but one "humans" do not normally inhabit such as the ocean? 
When I am thinking about this and painting, I love to listen to music and I find what is getting me through at this time is live music videos on Instagram. In particular, I am a fan of the Isol-Aid festival. The voyeur in me likes seeing the artist's home environment as well as the raw nervous energy of artists performing alone (or trying hard to social distance). I am also enjoying Beinart Gallery's one-on-one artist talks and some of Saatchi Gallery's live presentations. 
Importantly though, I'm doing okay and I hope you are also fairing well in these strange times."


---
ERIN COATES & ANNA NAZZARI IN THE 2020 ADELAIDE BIENNIAL
---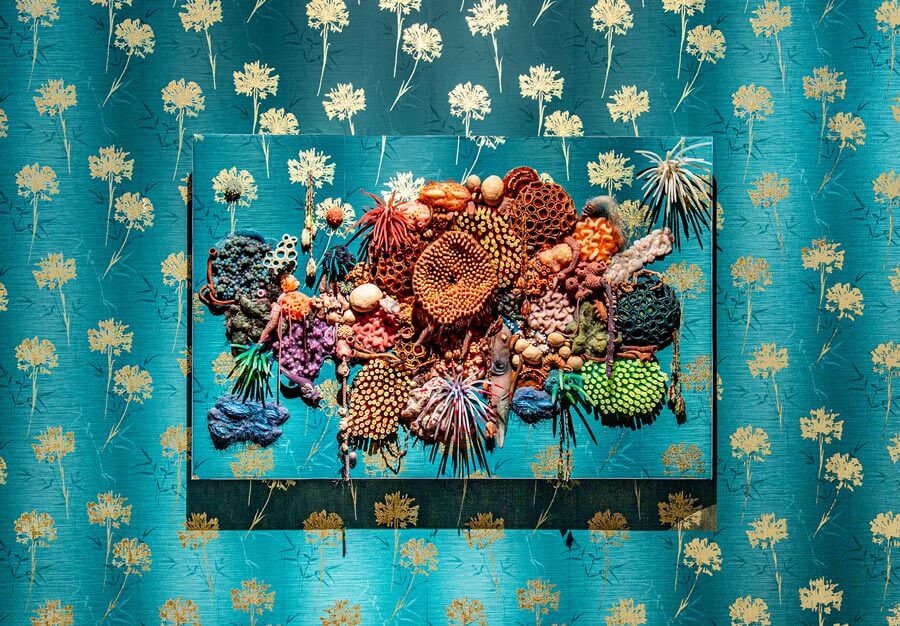 Many of the artworks shown at Linden in Dark Water, including the film of the same name, a large set piece titled Internal Interior, and a series of framed works on paper, went on to be included in this year's Adelaide Biennial titled Monster Theatres.
Curator Leigh Robb says, "Monster Theatres proposes an arena of speculation, a circus of the unorthodox and the absurd, a shadow play between truth and fiction. The title is inspired by a group of provocative Australian artists. Their urgent works of art are warnings made manifest."
Erin and Anna have been inspired by various tropes of the horror genre, but they are also driven by more prescient concerns about the human impact on our environment. The artworks selected for Monster Theatres encourage us to consider our relationship with our oceans to ensure we respect their power and their importance in supporting all life. 
---
INTERVIEW WITH JACQUI STOCKDALE
---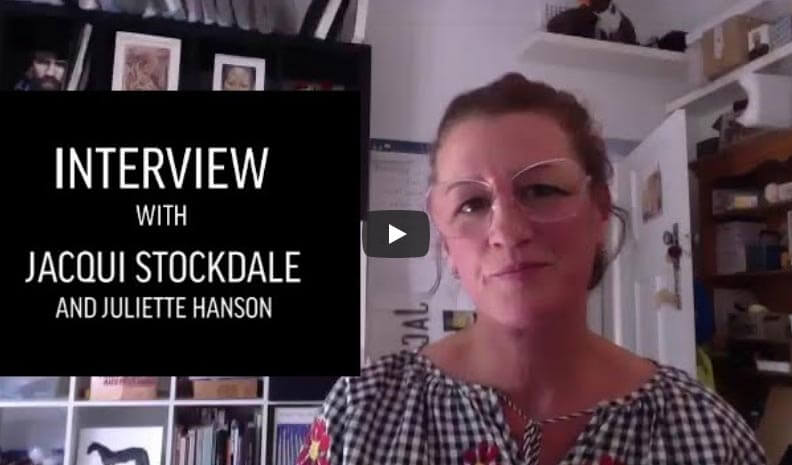 Jacqui Stockdale's solo exhibition The Long Shot is currently installed at Linden. Shortly after the gallery closed due to COVID-19 and working-from-home was still a novelty, our Curator Juliette Hanson hooked up with Jacqui via zoom to talk about the themes and artworks in her show.
---
ISOLATE WITH LINDEN > KIDS ACTIVITIES
---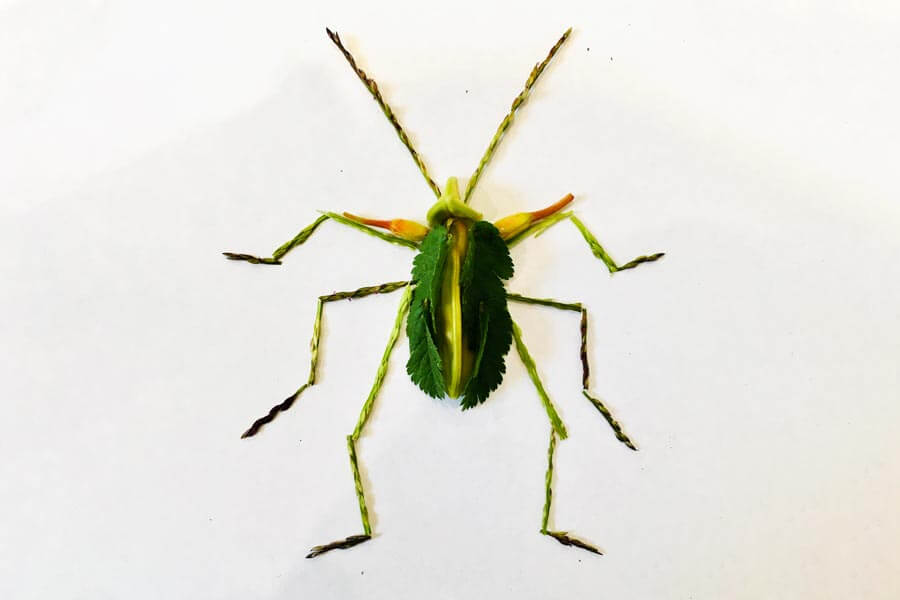 Autumn Flora Sculptures
This activity has been inspired by our 2016 exhibition Leith Maguire > Heads or Tails. Maguire is interested in the way that living things exist in and move through the natural world. Maguire's personal encounters with the landscape, flora and fauna are often reflected in her practice. As autumn sets in and the leaves begin to change colour and fall, kids are invited to find expression through their own encounters with the natural world by creating animal sculptures made from found plant life.
---
COOK LIKE AN ARTIST
> MONET'S CHESTNUT CAKES
---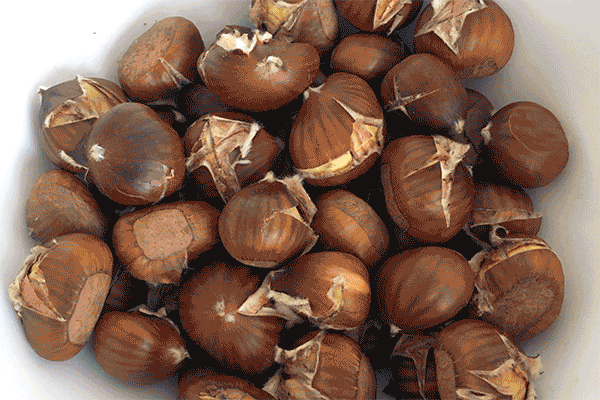 So, you're stuck at home and cooking has become the new black.
Each newsletter, we will bring you a recipe by a famous artist to try out.
This week Juliette, our Curator, has been in the kitchen again and this time she has made a recipe that was a favourite of Claude Monet. This recipe is a great one to try right now because chestnuts are in season. When roasting chestnuts, it is imperative to score them first, otherwise, as Juliette found out, they explode loudly with great force, coating the inside of your oven with millions of tiny chestnut fragments.
Ingredients
1 cup unsweetened chestnut puree (200 grams)
½ unsalted butter (113 grams)
¾ cup sugar (150 grams)
3 eggs (separated)

Method
To make the chestnut puree, bake them in the oven for 20 minutes, not forgetting to score them first! Then peal the chestnuts and boil them in milk or water until they are soft enough to puree.
Preheat your oven to 180 degrees celcius and grease 18 cupcake molds. If your cupcake tins are not 100% none stick, it could be a good idea to use cupcake liners.
Over a low heat, melt the butter, add the chestnut puree, sugar and egg yokes; then stir to combine. Take the pan off the heat. Beat the egg whites to form stiff peaks and fold them into the cooled mixture. Add the mixture to the molds and bake for 20 minutes or until firm. 

If you try out any of our Cook Like an Artist recipes, please share your foodie photos!
#lindennewart #cooklikeanartist #nailedit


---
GET CRAFTY
---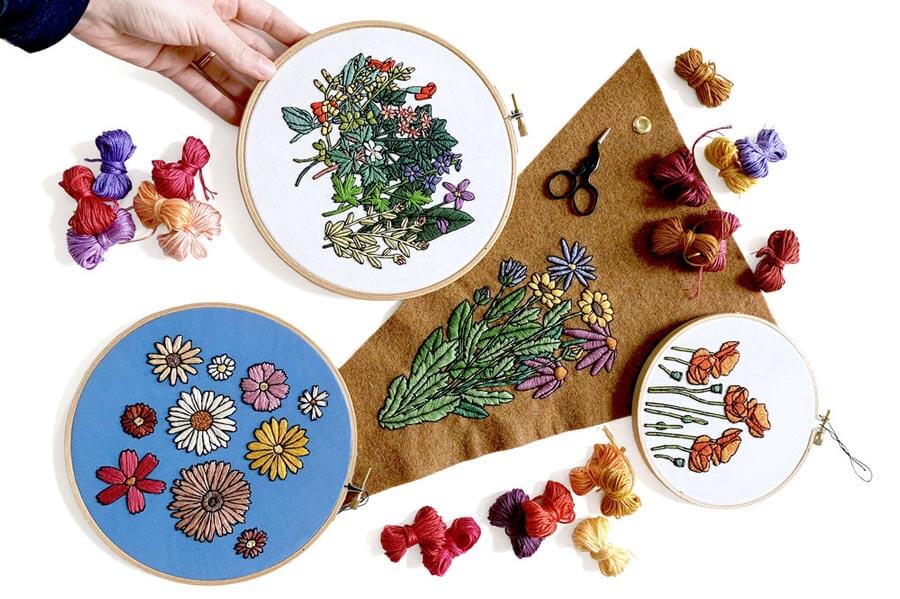 Ever heard of meditative stitching? Well we hadn't either, until we hand-picked our way through contemporary Australian artists to find the best and most crafty ways to stay zen.
Artist Sarah K. Benning shares her contemporary embroidery for beginners to seasoned stitches, her website has everything you'll need.
---
IN THE NEIGHBOURHOOD
---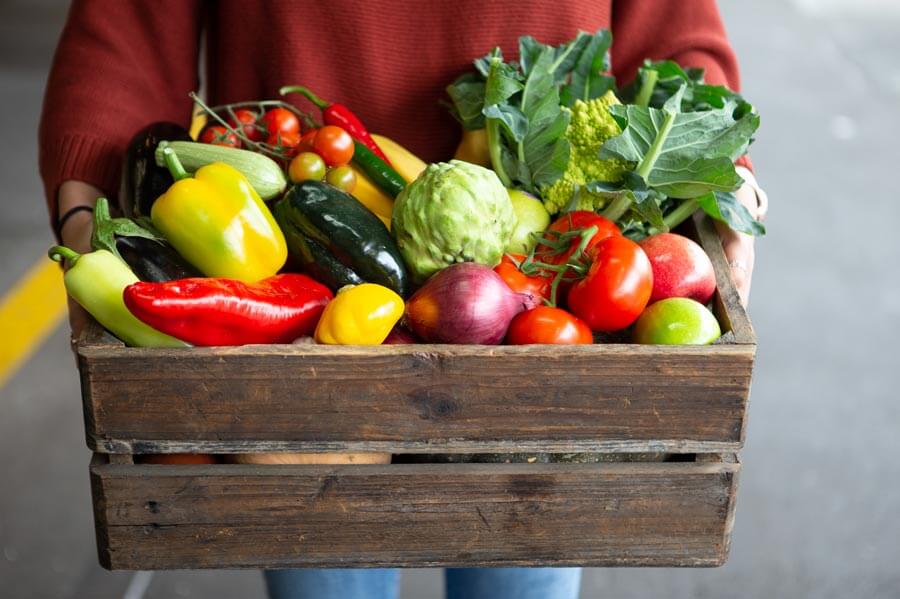 South Melbourne Market is an excellent option to stock up on seasonal fruit and veg, and it is now even easier to be healthy as you can drop into their drive-through.
---
THINGS THAT MADE US HAPPY
---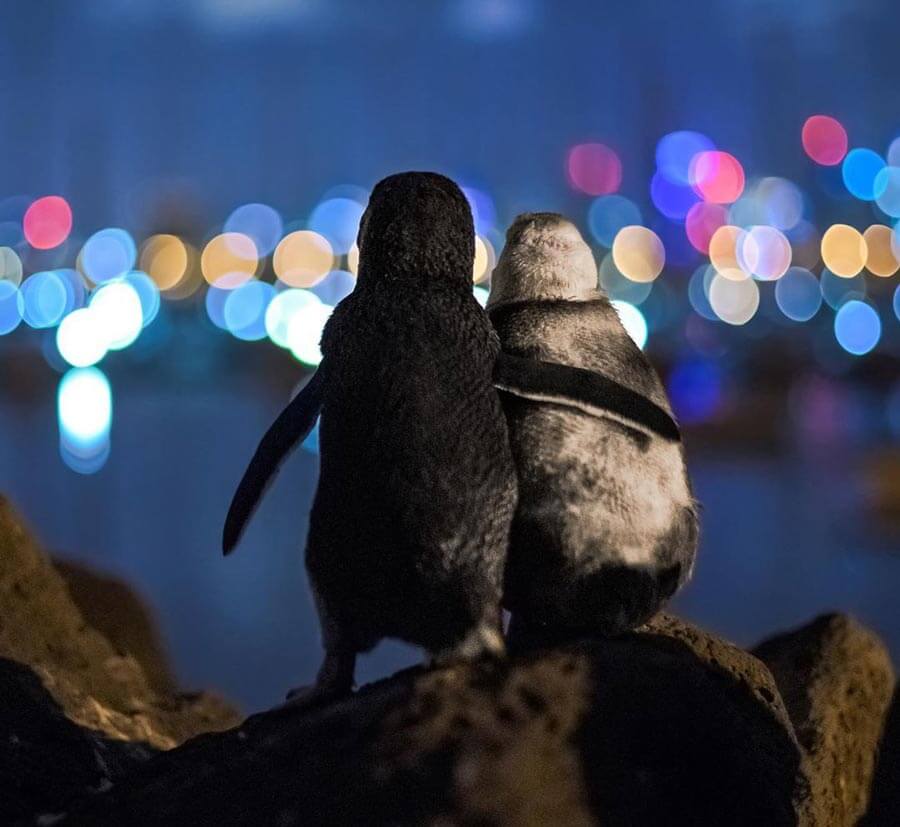 What could be cuter than a fairy penguin? Two fairy penguins. Hugging! These hardy St Kilda swimmers have found the best way to keep warm.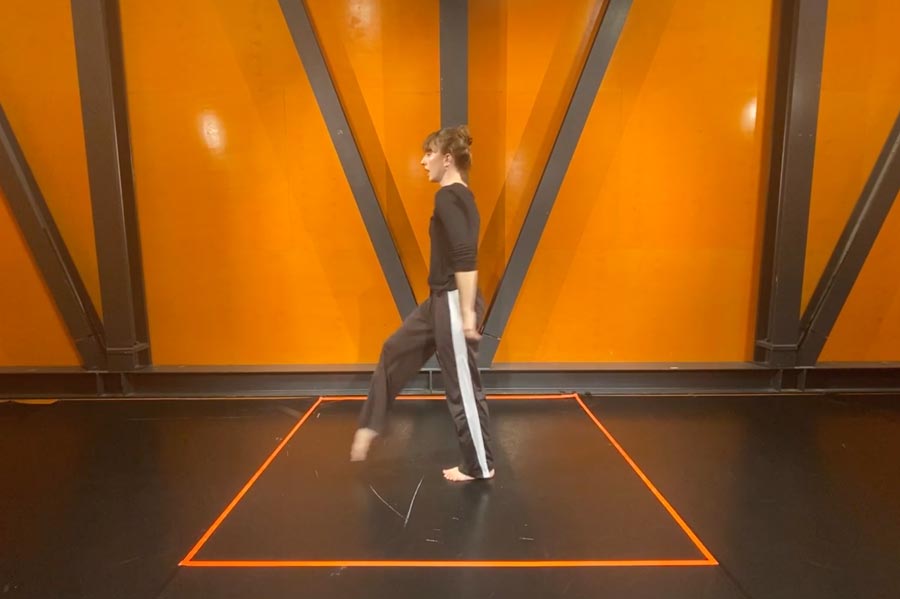 Need to get moving? Chunky Move is offering online dance classes!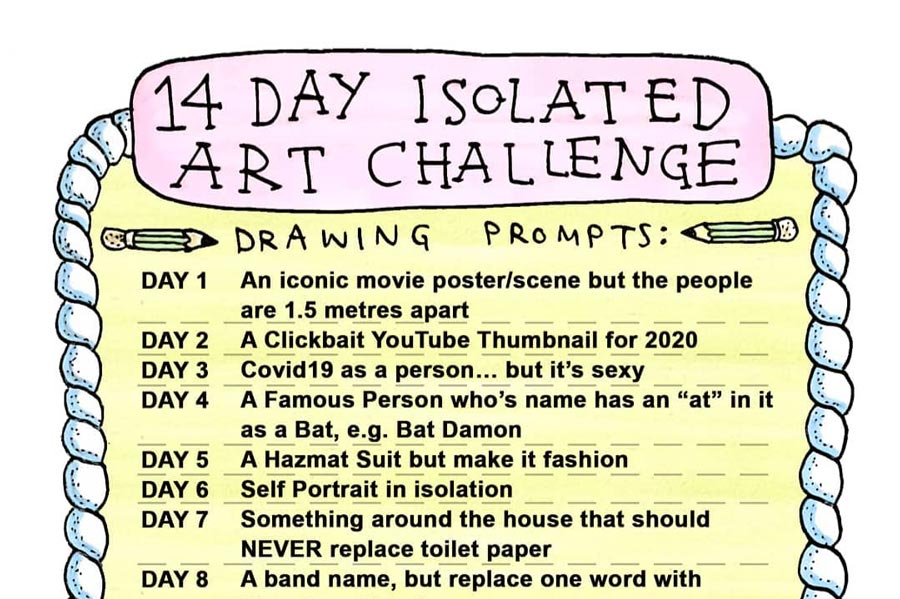 A 14 day challenge with a difference!
---
QUOTE & IMAGE CREDITS > Robert Fielding's 360 tour. Image by Immersive Ignition > Whether the Weather be Fine, Anonymous, British. Source > Oxford definition quote. Source > Gabriella Hirst, Force Majeure [film still] 2015-16. Image courtesy of the artist and the University of Melbourne. Source > Anish Kapoor, Sky Mirror, 2006. Image courtesy of the artist. Source > Cameron Robbins, Wind Section Instrumental, 2015-18. Image courtesy of the artist and MONA. Source > Erin Coates in the studio. Image courtesy of the artist. Photograph: Jessica Wyld. > Anna Nazzari, Work in progress. Image courtesy of the artist. > 2020 Adelaide Biennial of Australian Art: Monster Theatres [Installation view] featuring works by Erin Coates and Anna Nazzari, Art Gallery of South Australia, Adelaide. Image courtesy of the artists and AGSA. Photo: Saul Steed. Quote from Leigh Robb.  Source > Interview with Jacqui Stockdale and Juliette Hanson > Autumn Flora Sculpture of a bug by Sebastian Heusler > Monet Chestnut's cakes created by Juliette Hanson >  Embroidery by Sarah K. Benning. Source > South Melbourne Market delivery. Source >  Hugging penguins. Photograph: Tobias Baumgaertner.  Source > Chunky Moves, Dance for beginner by Kara Burdac. Source > 14 day isolated Art Challenge. Source.