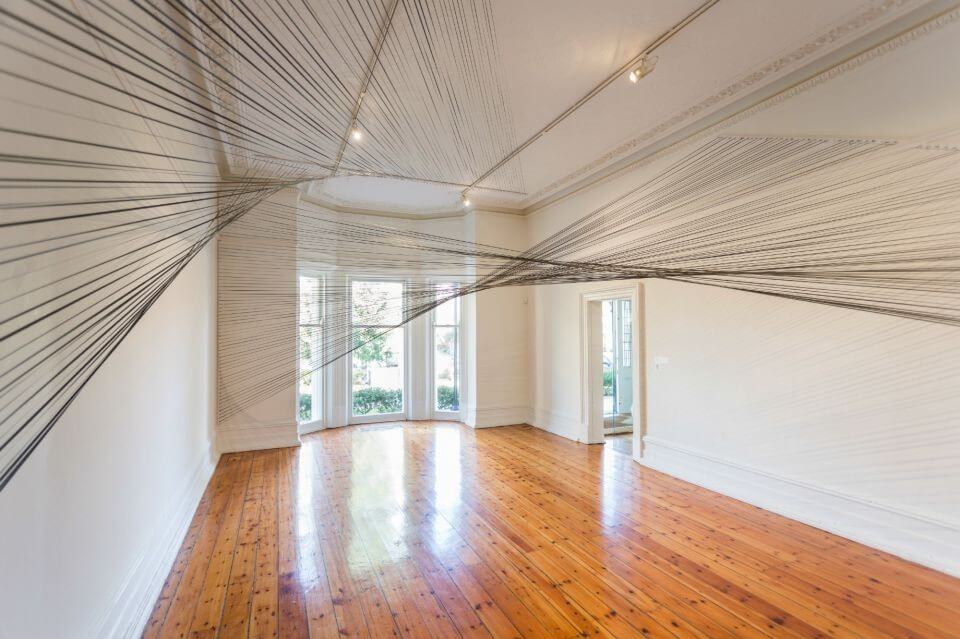 IMAGE > Britt Salt, Light Transit, 2014. Photograph: David Marks.
Linden's Innovators series of exhibitions presents new and innovative contemporary art. The artists in Innovators 1 respond to the unique spaces at Linden, through painting, sculpture, installation and intervention. The artists included in Innovators 1 are Scottish born artists littlewhitehead, curated by David Hagger of Blackartprojects, Jessie Bullivant, Nicholas Ives, James Bonnici, Amelie Scalercio, Britt Salt and Jasmine Targett.
Linden's galleries are uniquely utilsed through Innovators 1 with Jessie Bullivant's work stepping outside the gallery walls to occupy Linden's front garden. Britt Salt's vast suspended rubber sculpture assumes the entirety of a room allowing the viewer to walk within the sculpture whilst reconsidering the space. Three Melbourne based artists, Nicholas Ives, James Bonnici and Amelie Scalercio present, Through a Hole in the Sky, an exhibition of figurative paintings that inhabit an in-between world and challenge representations of the self. Jasmine Targett's interdisciplinary practice investigates perception and nature through a sculptural scientific map of the Ozone hole. Glasgow based artists, littlewhitehead, present, Inner Refuge, a sculptural work curated by David Haggar of Blackartprojects. The site-specific work references the public announcements made by the British government about what to do in the case of a nuclear attack. The work highlights the absurdity of hiding beneath a school desk.