Innovators 3
3 November 2012 > 9 December 2012


---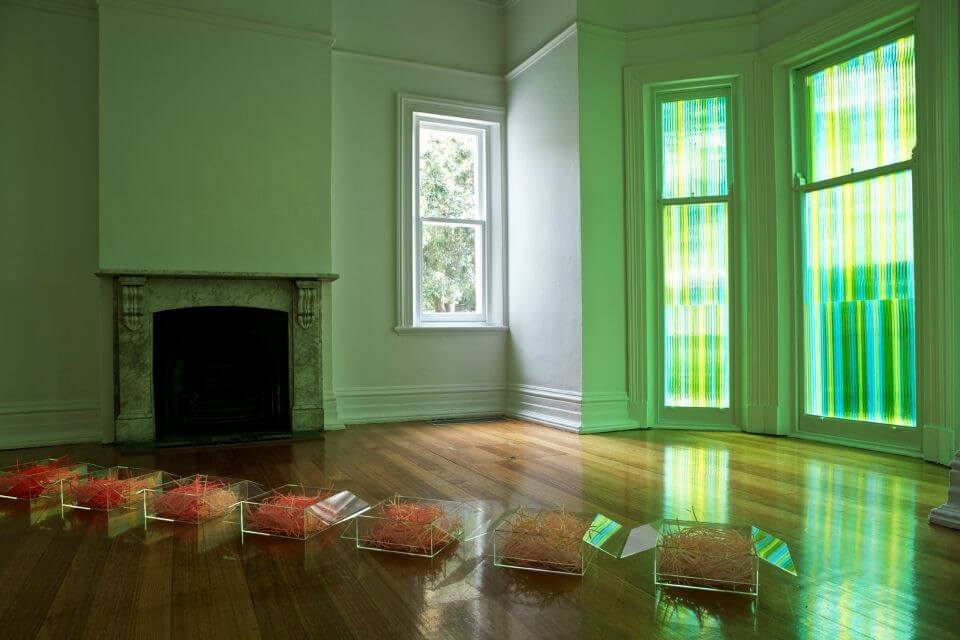 IMAGE > Sophie Knezic, Colouring Time. Photograph > Dean McCartney.
The works on display at Linden as part of Innovators 3 create environments and encounters that invite us to linger and reflect on the spaces we inhabit. Many of the installations draw attention to time, such as the work of Faye Mullen's video triptych titled Limitations and Other Discontents. The works echo the sands of time falling through an hourglass, a momento mori of our mortality. Akira Akira's installation Enquiry on Porosity, considers the way objects don't just fill a space but bring into focus a kind of gravity, a "pushing and pulling" between the works and the space they occupy.
Jeremy Bakker's Rupture, is a starburst cluster of pencils that simultaneously hovers calmly over and yet ready to damage a piece of paper. This work conveys the emotional tension of the creative process as well as energy and movement. Sophie Knezic's, Colouring Time, is a site-specific installation of coloured perspex rods inspired by literature and the available light made possible via the architecture of the gallery. Krishnamurti Suparka's, Apparently So, is a collection of drawings exploring boundaries between writing and drawing, word and image, here and there, visible and invisible and other daily contradictions. The exhibition catalogue essay was written by Scott Wark.

---
---