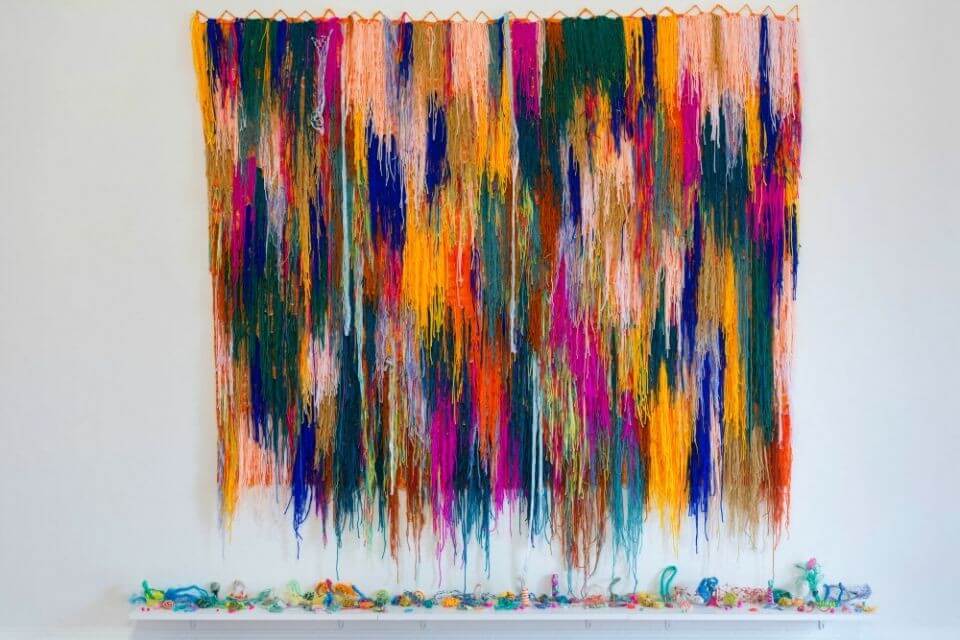 IMAGE > Elisa Jane Carmichael, A Bed of Plastic Seagrass (2013), Wool and Coral Sea Bed (2015) Found sea ropes, fishing net, clay and Synthetic plymer paint on canvas.
Photography by David Marks Photographer
Linden will present two solo exhibitions and one group exhibition in the Linden Projects, Atmosphere exhibition. These include:
Alice Wormald is a Melbourne based visual artist. She will create a new body of paintings for the exhibition. Wormald creates paintings that are based on collages using found images of natural and geological formations, vegetation, rocks and landscapes.
Debbie Symons is a Melbourne based visual artist. She will create a new screen based video work that explores databases of statistics to elucidate environmental crime and questions the involvement of capitalistic venture in the critical, global environmental issues now emerging. Counting One to Four, will explore the predicted consequences of our warming atmosphere on the entirety of the Earth's biodiversity through the use of percentage formulas.
Melbourne based Adriane & Verity Hayward will curate a group exhibition entitled Tomorrow never dies. The exhibition posits accessible solutions to empower individuals towards collective conciousness within an ever-changing and increasingly damaged planet. Tomorrow never dies explores societal illusions that the world will always be there when we wake up tomorrow. Works from local, interstate and international artists present diverse responses to changes in the environment that demonstrate the need for urban and global initiatives.