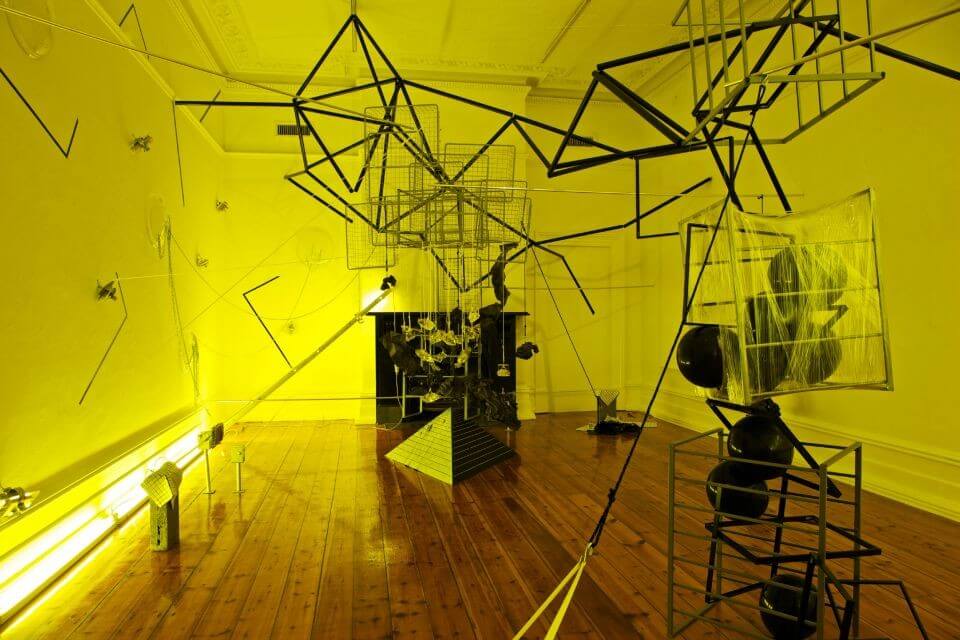 IMAGE > Soo-Joo Yoo, MULTIPLE TEMPORALITIES, 2012 Photograph > Dean McCartney
Six female artists will create site-specific works that respond to and engage with the historically rich and idiosyncratic architecture of Linden, transforming the gallery into six new environments. Working primarily with ethereal or everyday materials, the exhibition questions the notion of permanence and explores ideas of immersion, formalism, feminism and perception. The exhibition has been co-curated by Rachael Watts and Melanie Flynn.
Based on the microclimate of mosses and lichens, Helga Groves' installation, Green Precipitation, combines sound and visual effects to re-create a serene and poetic world inspired by time spent in Finland and Iceland. Concerned with the mutation of industrial and consumer waste, Lauren Berkowitz's Cell Structures, utilises discarded leather cricket balls, transformed to create a new harmonious being. Kate Tucker creates environments that disregard traditional delineations of dimensionality, converging multiple elements in her work whilst Mia Salsjo's presents three film installations that utilise the human form and language systems to communicate. Britt Salt has transformed the Linden's foyer entrance with Puzzlethéque, covering the ceiling and walls with geometric black and white stripes. Finally artist, Soo-Joo Yoo explores the potential of space in relation to materials and physical interactions. Her installation, MULTIPLE TEMPORALITIES, focuses on slow movements and combining the essential elements of air, water and light with man-made materials.