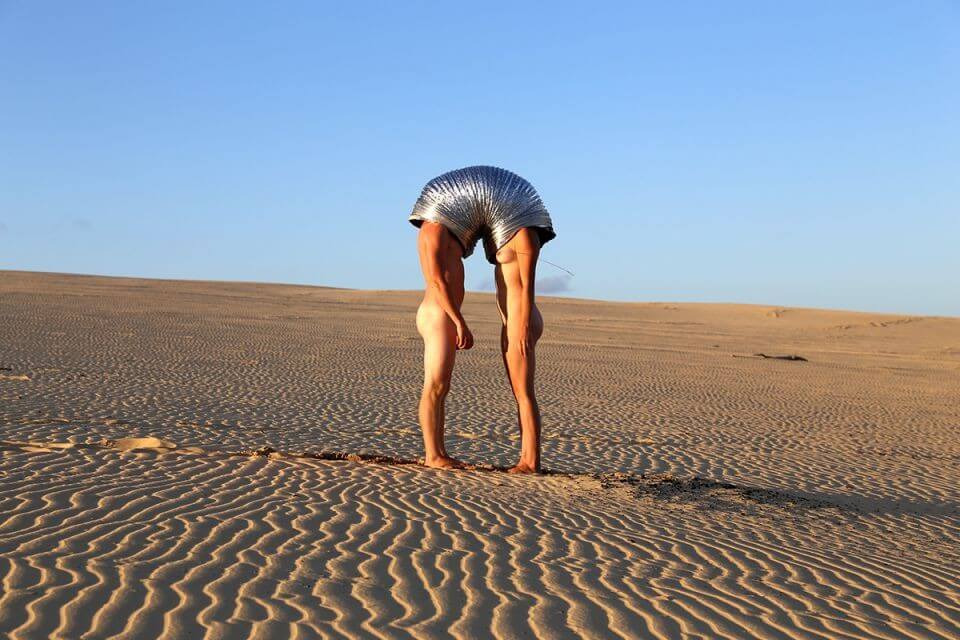 IMAGE > Swarm Collective, Hannah Raisin and Will Heathcote, Conjoin (2013).
Photograph supplied by artists
The artists of the Swarm Collective take on notions of place and longing, in Wish You Were Here, initiating a creative dialogue dealing with transience, dislocation and nostalgia through journeying from one place to another, or here to there, or then to now. Rebecca Delange explores place and placeless-ness in a discourse between metaphors of the body, sculpture and architecture whilst Betra Fraval and Skye Kennewell work in collaboration to explore ideas of distance and connection in a work dealing with the desire to create individual, personal space whilst longing to connect with others.
There is a further collaboration between the two Ryan sisters in their exploration of humour, horror and death through a display of tacky tourist souvenirs on a road trip to hell. Artist Kotoe Ishii also considers the road, as a road to go somewhere and also to come back from somewhere. Often the desire to be elsewhere, when fulfilled leaves the voyager dreaming about the place she left behind. The Swarm Collective is Rebecca Delange, Betra Fraval, Skye Kennewell, Kotoe Ishii, Hannah Raisin, Natalie Ryan, Pip Ryan and Jordan Wood.