IMAGE > Dobe Newton with lagerphone and Roger Corbett at induction into the Australasian Country Music Roll of Renown, Tamworth. Image courtesy of Dobe Newton.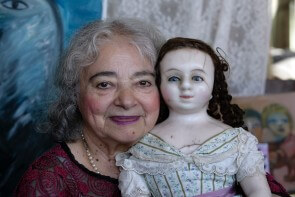 IMAGE > Mirka Mora with one of her antique dolls. Image courtesy of Serge Thomann.
Dobe Newton OAM, the front man in the crazy custom-made suits confesses to always being a singing 'dag' who in the late 1960's was saved from his university studies and real-life plans to be a lawyer by a bunch of Irish folkies who introduced him to the Dubliners. He was handed a lagerphone and a tin whistle, and bush music nestled in his bones. In 1972 Dobe joined the original Bushwhackers and Bullockies Bush Band, which quickly established 'legendary' pub residencies in Melbourne's inner north, and soon turned their attention to the folk revival that was sweeping Europe. Five European tours over the next seven years saw the band establish a significant reputation and fan base as energetic, skilful interpreters of a unique Antipodean version of the anglo/celtic tradition. Dobe was a founding board member of the Country Music Association of Australia, is the current President and helped establish the Australian College of Country Music. Well known as the co-author of the inconic 'I Am Australian', Dobe is in his 48th year of Bushwacking and doing what he loves best – belting the hell out of the lagerphone.

Graeme Horne has been in charge of Abbingdon Auctions Australia since 2001 producing all of their detailed catalogues, valuations and appraisals. During this time, he has sold dolls up to a total of $26,000, stuffed bears to $10,000 and doll houses to $20,000. Graeme also performs valuations and lectures about doll collecting at doll fairs across Australia. Between 2006 to 2015, Graeme produced the "Collecting Bears & Dolls" magazine, as well as the "Australian Shirley Temple Collector News" quarterly magazine from 1998 to 2014. For 4 consecutive years, Graeme was the expert on 3AK weekly talkback radio program with Leigh Drew, undertaking valuations for late night listeners.