On Holidays at Linden > NGV Kids on Tour
---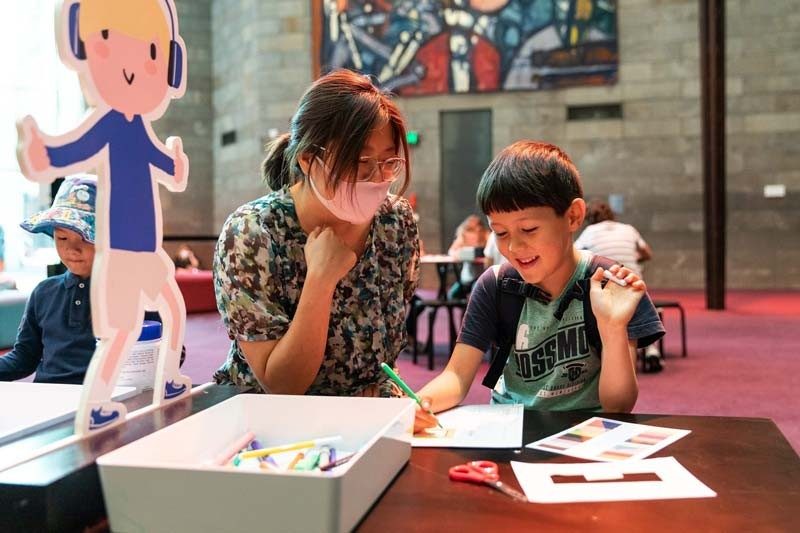 IMAGE > A family at Kids Summer Festival 2021 Photograph: National Gallery of Victoria, Melbourne.
ART FOR WHOLE FAMILY!
In partnership with NGV Kids on Tour, Linden is excited to continue our school holiday activities with take-home art packs and explore online for all ages.
| | |
| --- | --- |
| WHEN | > 04 - 27 January 2022 |
| ACCESS | > Pick up a pack onsite and explore online |
| COST | > FREE, children and families can enjoy free art activities |
Sorry, you've missed the RSVP deadline for this event.
---

WHAT'S IN THE ART PACKS?
NGV TEENS (Suitable for ages 12+)
Shooting in the Dark with Tom Blachford - photography take-home activity
Styling a Look with Aurie Indianna - collage take-home activity
KIDS ART PACK (Suitable for ages up to 12)
We are Mermaids - construction and drawing take-home activity
Noisy Birds! Dhawuḻuŋguḻ Ŋutu' Wäyin Malanynha with Siena Mayutu Wurmarri Stubbs - drawing and guessing game take-home activity
Collecting Maypal with Siena Mayutu Wurmarri Stubbs - board game take-home activity
NGV Collection, Paper Jewels - collage and construction take-home activity
Activity booklet : Art for the Whole Family! - take-home booklet
NGV Kids on Tour is an initiative of the National Gallery of Victoria. NGV sincerely thanks the Packer Family and Crown Resorts Foundations for supporting NGV Kids and Learn programs as part of the Your NGV Arts Access Program for Students, Children and Families. NGV also acknowledges the generous support of The Neumann Auster Family & Friends. For more information visit NGV Kids on Tour.
---