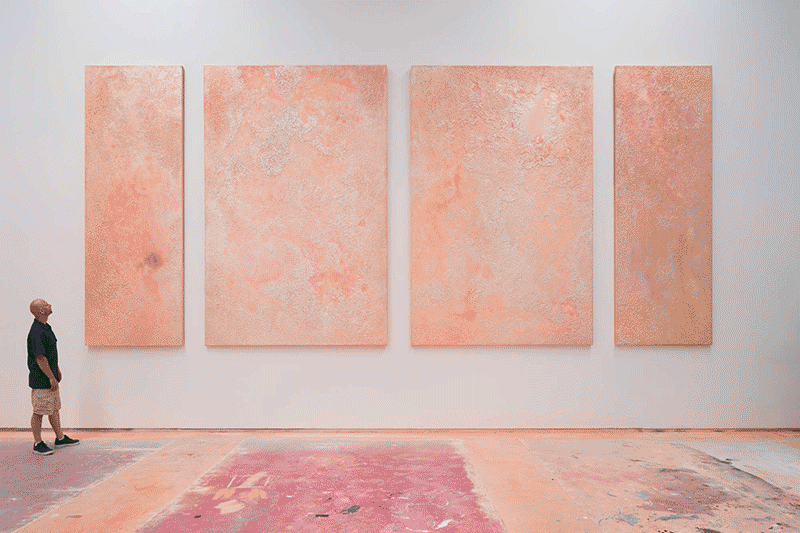 IMAGES > Ash Keating, Aerial # 1 - #4, 2020, pigment, urethane acrylic, perlite and mica flakes on canvas. Photograph by Dan Preston. > Troy Emery, the emerald sphinx, 2020. Polyester, polyurethane, wire, fibreglass, pins, adhesive, 24 x 98 x 40 cm. Image courtesy of the artist and Martin Browne Contemporary. > Nicholas Folland, Untitled (36 - 39), 2016, found crystal vases, LED lights, dimensions variable. Image courtesy of the artist and Tolarno Galleries. Photograph Andrew Curtis.
Jeremy Blackshaw, Chair & Melinda Martin, Director together with the Board and team of Linden New Art invite you to a virtual opening to celebrate the new work of three leading mid-career Australian artists
ASH KEATING > DUALITY
TROY EMERY > SONDER
NICHOLAS FOLLAND > BURN DOWN THE HOUSE

Date & Time > Friday 12 February 2021, from 6PM
Replay on Youtube
Replay on Facebook
To add a comment on the night you will need to log into the platform of your choice. For those who require live captioning, please join the Facebook live stream, which provides this service.
Sorry, you've missed the RSVP deadline for this event.