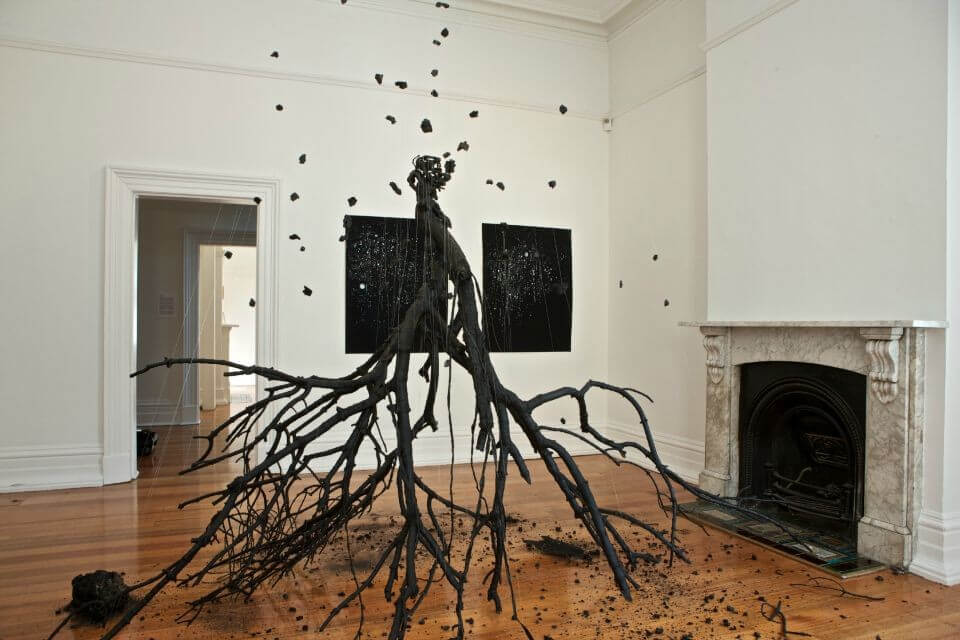 IMAGE > Betra Fraval, The Dead Tree Gives No Shelter, tree branches, dead birds, torn paper.
Photograph > Dean McCartney.
Traditional and contemporary mediums and found objects are used to explore cycles and relationships within language, culture and nature. Michael Bullock's sculptural works, Enlightenment Figures, are cast from discarded, weathered and broken found objects, echoing the passage of time and people over the globe. Two artists, Phil Edwards and Marc Freeman examine the nature and relevance that gestural painting in abstraction may hold for contemporary times in Australia. Another work using painting as a medium is Sharon Billange who has created a large-scale wall painting of a sunset that will runs continuously around all four walls of the gallery, from ceiling to floor. The work is concerned with time and the application of making processes and involves piecing multiple images together to suggest temporality or looped cycles.
Julie Shiels works with the residues of packaging that once held mass-produced consumer goods. This sculptural and graphic installation investigates the utopian ideals and apocalyptic threats that underlie social change and progress. Betra Fraval's installation, The Dead Tree Gives No Shelter, presents the scene of an elegant aftermath suggesting all matter goes through cycles from destruction to transformation and regeneration. The installation incorporates tree branches, dead birds, torn paper and other fragments scattered across the walls and floor of the gallery space. Artist, Mark Wingrave uses contemporary Russian poetry and strategies of translation in his painting and drawing works. His series titled, UnParallel, explores the relationship between identity, language and culture.