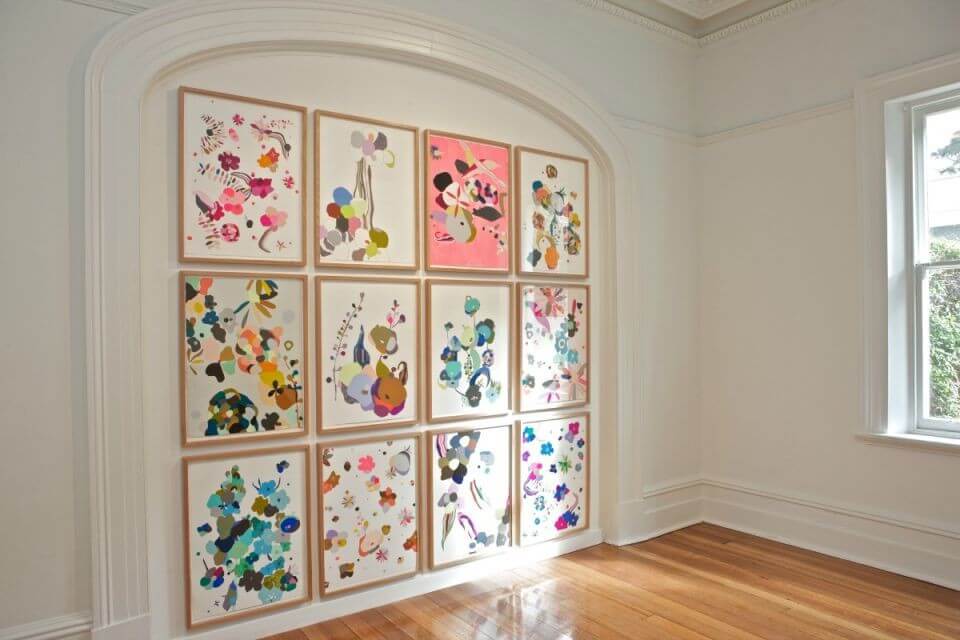 IMAGE > Kirra Jamison, Installation view, gouache, pen and vinyl on paper.
Photograph > Dean McCartney
This Innovators series presents works that take colour, ideas of excess and intricate detail as their inspiration. Taking its title from a 1983 Madonna song, Kristen Phillips, Burning Up, are intricately detailed bronze sculptures containing multiple motifs, including jewellery, floral patterns and fruit. Like Phillips' bronze works, the forms that make up Naomi Troski's Slow Haze, are difficult to define. Composed of a white synthetic lattice suspended by rope, Troski's amorphous forms billow throughout the gallery.
Materials becomes subject in Minaxi May & Dawn Gamblen's installation Synthetic. The work is comprised of hundreds of rainbow coloured bendy straws, the artist duo have assembled, proving that art objects need not be made, rather just recognised (a la Duchamp readymades). Valentina Palonen's, Imagining New Colours is a fantastical room full of curiosity, intrigue and wonderment made from everyday materials such as polyurethane foam, resin and ribbon. Elaine Mills work, Indoor/Outdoor, explores ambiguity through a part performance and part static installation. The focus of this installation is the transition of everyday objects in our domestic indoor and outdoor lives.