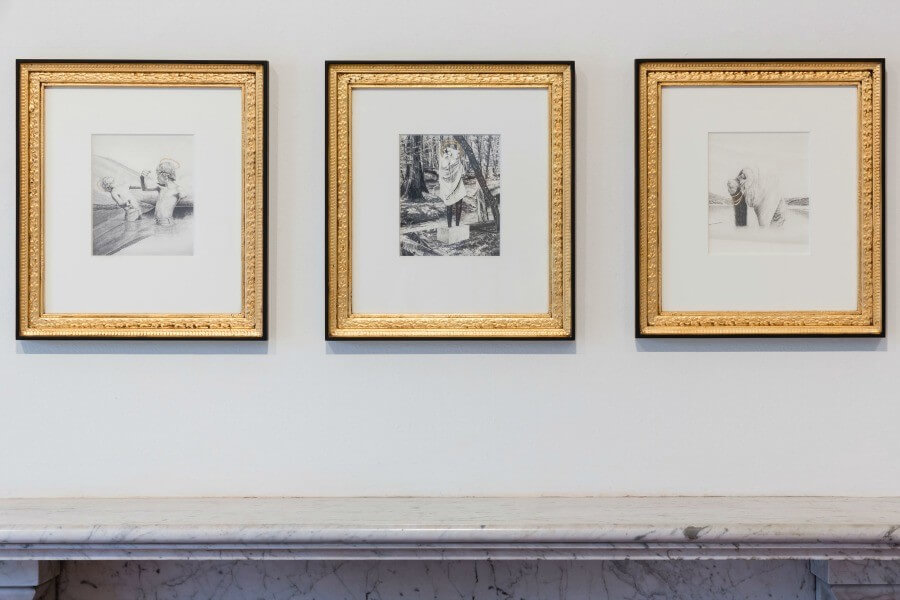 IMAGE > Becc Orszag, (L-R) The False Victor (2015), The Appointed (2015), and The Revived (2015). All works are graphite pencil and 24kt gold on paper. Photograph by David Marks Photographer.
Linden will present four solo exhibitions in the Linden Projects: Paper exhibition. This exhibition explores how one of the oldest of art medias is used by contemporary artists today and explores how this media can be extended.
Gunjan Aylawadi will present a large floor based installation inspired by the patterns of intricate mosaic tiles. In an age where we are always sprinting towards the next thing, her work is informed by the difficult act of slowing down to pay attention to details. Each piece of paper is hand cut and rolled into thousands of strips of paper for every single paper mosaic. These paper curls are then glued onto hand drawn patterns.
eta Clancy explores the dimensions of photography in her solo exhibition Puncture. She will present a new suite of 4 large-scale intimate self-portraits that explore the transformative, fragile and resilient qualities of paper. Using a fine needle the artist carefully applies thousands of tiny pinpricks through the surface of photographic paper. These markings rupture the surface of the photographic print and form beautiful embroidered patterns that are visible on the surface of the paper.
Becc Orszag will present a new body of drawings for the exhibition. Orszag's drawings are a strange mix of landscape, portraits and performance presented in a dream like trance. She writes, "My drawings are inspired by found imagery and the written word, from accidental photographs and historical photojournalism to instruction manuals and religious texts. I explore the insatiable human desire for a promised land, a utopia beyond the physical limits of Earth".
Emma van Leest will present a large-scale installation of paper cut outs using a synthetic paper that will hang from the ceiling and cast shadows over the viewer. Her work explores the repercussions of colonialism and exploration and the notion of the souvenir during this period of conquering and quashing of local indigenous cultures and ideas.