Tully Moore
Foreign Objects
9 November > 24 November 2019
Opening: Saturday 9 November 2019, 2-4pm


---
80km till the next town… endless horizon. This place should be more familiar. I have passed along this road endlessly. This particular piece of bitumen is the thing that connects myself to those that are closest to me, yet it feels so foreign.
An eagle hovers above… circling, waiting to devour it's pray below. It appears to dance to the track that is all consuming inside the tight confines of this car. As I pass I continue to marvel at the eagle's majestic rhythms. As I move beyond this momentary daydream I notice another dead roo on the side of the road. Some crows are helping themselves to the leftovers. There seems to be so many of them at the moment, searching for water no doubt, their demise brought about by this endless line of road trains. These land bound missiles seem to be in a rush to get to their destination. The pilots that navigate these alien objects rarely touch the ground.
As I approach a truck I can not help but marvel at its hood ornament, a chrome eagle, wings spread as if it is in full flight. Emulating the power of the bird I was looking at only moments ago, this time though the static bird made of metal bolted into metal takes on a far more ominous presence.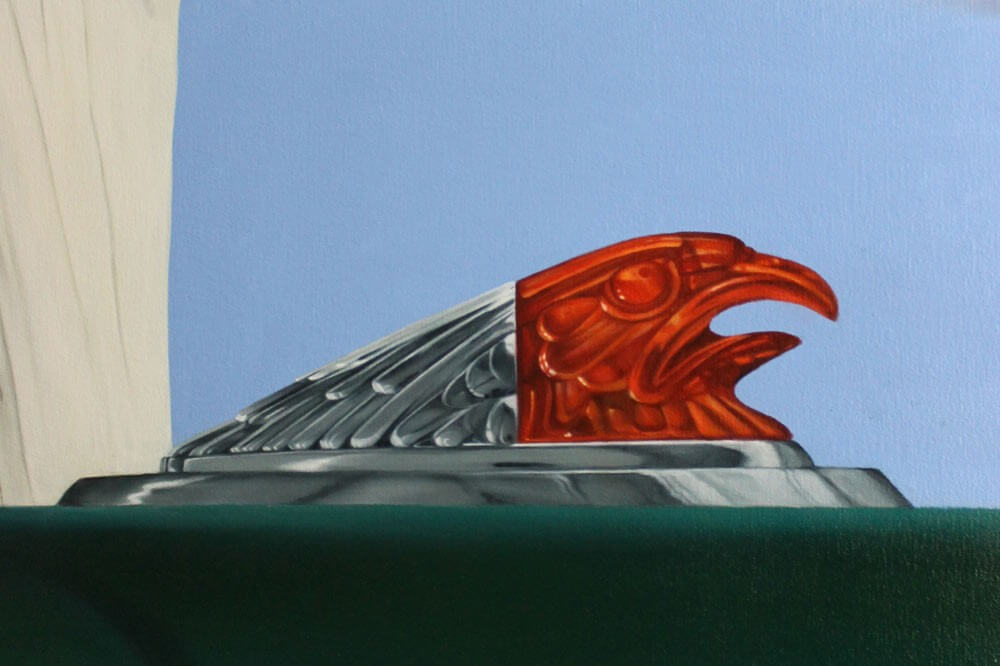 IMAGE > Tully Moore, Foreign Object II [detail], 2019, oil on canvas.
Image courtesy of the artist & Blackartprojects.
---
ABOUT THE ARTIST >
Tully Moore > WEBSITE

Please note > We apologise for any inconvenience,
the Linden Projects Space is not wheelchair accessible.

---